LABORATORY OF PHOTOELASTICITY
MODERN PHOTOELASTIC TECHNOLOGY FOR RESIDUAL STRESS MEASUREMENT IN GLASS
HEAD OF THE PROJECT Hillar ABEN, D.Sc.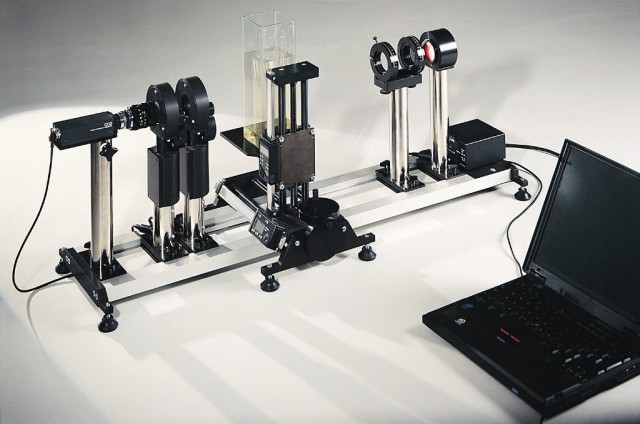 Automatic polariscope AP-02 SM for stress measurement in axisymmetric glass articles
Manufacturing of resistant glass articles demands accurate knowledge of the residual stresses in order to optimize the glass manufacturing technology. Laboratory of Photoelasticity has 40 years of experience in measuring stress in glass articles of complicated shape. For that Laboratory has developed modern measurement technology as well as manual and automatic polariscopes which are easy to handle and can be used in the vicinity of he production line.
For measuring stresses in axisymmetric glass articles a new method, based on integrated photoelasticity and some ideas of tomography, has been developed. The method permits the determination of the distribution of stresses in solid and hollow glass products including stresses on the surfaces. Regions with highest stress can be easily found. The method is being used for measuring stresses in drinking glasses, bottles, neck tubes of the CRT glass bulbs, lamps, optical fibre preforms, etc. Several manual and automatic polariscopes, manufactured by the laboratory in cooperation with a company of scientific instruments, are used for quality control in glass industry.
From the Laboratory of Photoelasticity you may order:
Analysis of the stresses in glass products manufactured by your company (bottles, drinking glasses, electric lamps, CRT bulbs, optical fibre preforms, etc.).
Automatic polariscopes for the stress measurement in your company. Our polariscopes are easy to handle. By installing the polariscopes we train your specialists to use it.
Expertize on any problems related to glass stresses.
---
Stress mesurement in a tempered drinking glass
physical and digitized fringe patterns in the wall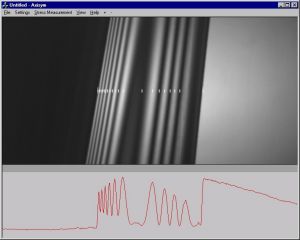 axial stress distribution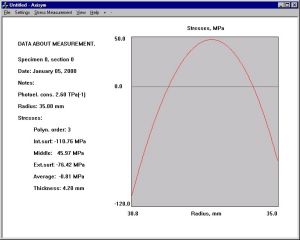 ---
(a) geometry of CRT bulb

(d) axial stress on the external surface of the neck tube

(b) axial stress distribution in two sections of the neck tube

(e) axial stress field near the neck seal

Internal surf. External surf.
(c) axial stresses on the internal surface of the neck tube

---
Distribution of the residual birefringence
in a plastic lense of a laser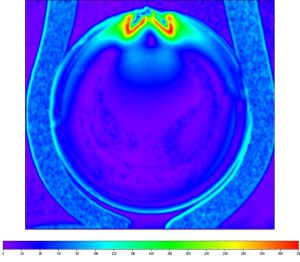 Geometry of a tumbler and distribution of the surface stresses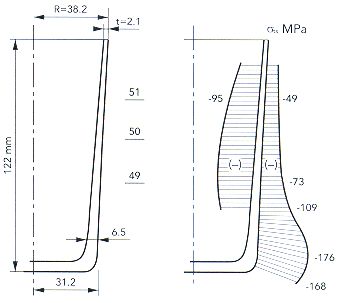 ---
CONTACT
Laboratory of Photoelasticity
Institute of Cybernetics at TTU, Akadeemia tee 21, 12618 Tallinn, ESTONIA
E-mail:aben@ioc.ee, phone: +372 620 4180, fax: +372 620 4151