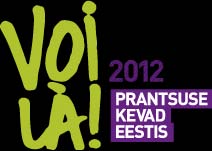 Fourth French Month of Science in Estonia
---
Tuesday, June 5 2012, 14:00
Cybernetica Bldg (Akadeemia tee 21), room B 101
The Fourth French Month of Science in Estonia focuses on information and communication technology applications in various research areas. Institute of Cybernetics together with the French Institute organises on June 5th a language technology workshop with Joseph Mariani, the former Director of Information and Communication Technology Department of French Ministry of Science and current Director of the Multilingua and Multimedia Institute, as keynote speaker.
14:00
Opening
14:05
Joseph Mariani
Language Resources and Evaluation for a Multilingual Europe
14:45
Kadri Vider
Center of Estonian Language Resources and HLT national programs
15:15
Kadri Muischnek
HLT research at Tartu University
15:45
Arvi Tavast
HLT at the Institute of the Estonian Language
16:15
Einar Meister
HLT at the Institute of Cybernetics
16:45
Discussions, coffee
Information and registration: Einar Meister, tel 620 4200, einar@ioc.ee
NB! Limited number of participants, preliminary registration REQUIRED!