2015

The spin-off enterprise of our Laboratory of Photoelastcity GlasStress OÜ has won Germany's Economy Award in Estonia 2015. The award ceremony took place on May 7, 2015 at the hall of Tallinn Secondary Science School (the diploma, the press release).
2014
On September 27 at the ceremonial meeting of the Senate to celebrate the 95th anniversary of the University of Latvia Hele-Mai Haav and Ahto Kalja received their Doctor honoris causa degree of The University of Latvia for about twenty years of creative and fruitful cooperation with the Latvian University in Computer Science including jointly organizing a high-level international conference

2013 The President of the Republic's Cultural Foundation Special Physical Sciences Award of 2013 was given to physicist Jaan Kalda.
2013 Estonian award of the Friend of Science Journalism Ökul was granted to marine scientist, academician, leading research scientist of IoC Tarmo Soomere. The award is granted by the Estonian Science Writers Association (teadus.err.ee).
2013 Tarmo Soomere was awarded the Medal of Baltic Academies of Sciences for outstanding results in Estonian, Latvian and Lithuanian marine research co-operation.



The main prize of the Estonian Language Deed of the year 2011 went to the work of Tanel Alumäe and Kaarel Kaljurand "Speech recognition applications for smartphones" (ERR).
2011 At distribution of 2011 Estonian Science Communication Awards Tarmo Soomere got the title of the best scientist,( journalist or teacher) that communicates science and technology for explaining actual problems of marine physics in popular-scientific papers and at public appearances.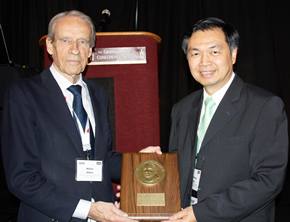 2010 Hillar Aben: the 2010 William M. Murray Award of the Society for Experimental Mechanics, accompanied with invitation to deliver the William M. Murray Lecture at the Society's Annual Conference on June 7-9, 2010 in Indianapolis, IN (USA) (Murray lecturers page saved 15.08.2010)

2010 Irina Didenkulova: the 2010 Plinius Medal of the European Geosciences Union
2009 Hillar Aben, Leo Ainola, Johan Anton ja Andrei Errapart: state research award for outstanding research and development works that have led to an innovative product, for the work "Integraalse fotoelastsusmeetodi teooria, mõõtmistehnoloogia ja aparatuuri väljatöötamine ja rakendamine jääkpingete mõõtmisel klaasitööstuses" (Theory of integral photoelasticity and development and launch of the measurement method and equipment for measuring residual stress in glass industry)